Dog Dental Care 101: How to Care For Your Dog's Teeth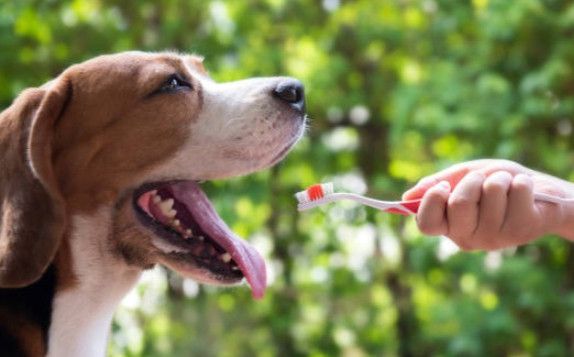 Caring for your dog's teeth is a vital part of dog ownership that many people are inexperienced about. If you've been wondering how to take care of your dog's teeth, look no further than this article. This simple guide has helped many owners provide the routine dental care their pooch needs to stay healthy. 
Home Dental Care
Much like you do for yourself, your dog needs a dental routine you can stick to and perform at home. You won't need to brush their teeth every day and floss them, but you do need to do something. 
Brushing your dog's teeth at least three times a week is recommended to manage the buildup of plaque and bacteria in their mouth. Remember that consistency is critical. No matter how good you brush your dog's teeth, if you don't do it regularly, they will suffer from dental problems. 
Diet and Treats
Everyone knows that some foods are bad for your teeth, and even dentists will tell you the same thing. Sugary and acidic drinks will strip the protective coating off of your teeth, and sticky foods will get caught in them more frequently. These foods increase the chances of tooth decay and gum diseases. 
It's the same for your dogs, albeit they aren't drinking soda and eating candies. However, sticky food can still get stuck in their teeth and rot them. Giving them a nutritious diet of dry kibble is recommended, which helps scrape plaque off their teeth as they eat. There are also many treats available to buy that do the same thing!
Vet Visits
Home dental care can only do so much for your dog. Like you visit the dentist every so often, your dog should have routine dental care to treat current issues and prevent issues in the future. You simply won't be able to tell how bad your dog's dental problems are unless a vet gets a good look under the gum line.
Furthermore, you should have your dog scheduled for yearly dental cleaning. It's the best practice for taking care of their teeth and preventing tooth decay. Too much bacteria buildup in your dog's mouth can lead to some severe health complications. It's vital that you have these cleaning sessions to manage the bacteria in their mouth.
Caring For Your Dog's Teeth With Whitestone Veterinary Care

Whitestone Veterinary Care is a full-service animal hospital that has been protecting cats and dogs in the community for over 15 years. We are proud of our reputation for providing top-quality care and service to the animals that walk through our doors. Taking care of your dog's teeth is important; let us hear from you and schedule an appointment for routine dental care today!

By accepting you will be accessing a service provided by a third-party external to https://whitestonevetcare.com/